The Chief Viticulturist Márcio Nóbrega from Sogevinus has made a set of notes about the 2017 harvest.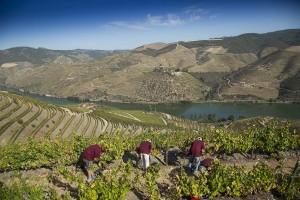 "Winter: Dry and cold (rainfall below the average for the last 30 years)
Spring: Extremely dry and hot, which originated an earlier cycle in the vine (sprouting 2 weeks earlier than 2016).
No disease in the vine (which is great), the lack of water resulted in smaller grapes and bunches.
The earlier cycle times continued throughout the season

Summer: Hot and extremely hot
Several days above 40ºC in June, July, August and September originated great hydric stress in the vines, further accelerating the cycle and causing the harvest to start, in some cases, three weeks earlier than usual
At our Quintas: harvest started on August 21st; Arnozelo finished on September 11th. In 2016 we had started on September 14th.
State of the grapes: Good sanitary state
High sugar content (alcohol)
Good concentration (small grapes)
The region will have a bigger production than in 2016 (as a reminder, in 2016 many producers lost a lot of volume due to mildew). This year will be closer to the last 5 year average production. Sogevinus did not suffer from this problem in 2016, and as such we will maintain production levels (even increasing slightly)."